To help us deliver for you the best possible care and experience when visiting Everyday Medical, here are few things to know about our practice and what you can expect when coming in to see one of our doctors.
Your first visit
Because we are a new practice, it's important we collect as much of your information as possible. When you arrive, our friendly team at reception will get you to complete a 'Patient Registration Form'.
They will also explain to you our fees and answer any questions you might have about Medicare rebates as well as anything else you need to know related to your appointment.
Don't forget to bring along your Medicare card, any concession cards you might have and your private health cover information.
We'll need you to also complete a 'Patient Records Transfer Authority' so we can have your previous medical history sent over to us to keep securely in our files.
We can send both of these forms to you before you visit us. Contact us via the Sign Up page and complete the online request form. We'll send them straight out to you via email. Just remember to bring them with you on your first visit.
Appointments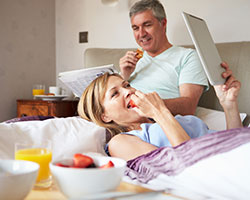 At Everyday Medical, we try to ensure we see everyone at his or her scheduled appointment time.
However, we can only do this with your help, so we ask you consider the following when making and keeping your appointments:
When you're booking your appointment, let the team on reception know if you think your visit will be just a quick one, or maybe a little longer. This will help them schedule the right amount of time for the doctor to see you.
Be at least 5 minutes early for your appointment. That way you'll be ready and waiting for when the doctor calls you.
If you are running late, we ask you to call ahead and let our team on reception know. We can sometimes shuffle things around so we don't have to keep the appointment after you waiting too long.
If you've been to have a scan or see a specialist, it's really important you don't forget to bring any documents or films along with you. It will help us to keep things moving and on top of your health management.
We understand that sometimes things come up and you can't make it. That's cool. We simply ask you let us know well in advance so we can give your appointment to someone else who might need to see the doctor urgently.*
When you do need to see one of our doctors, the best way to make an appointment is to call the practice on 07 3325 5611 and speak to our fantastic team on reception. They'll be happy to help you.
*Appointments not kept, or cancelled without adequate notice (3 hours) may attract a cancellation fee.
After-hours appointments
Sometimes you need a doctor after hours and finding a doctor you feel you can trust, especially when our practice isn't open, can be just as stressful as being sick.
If the medical matter is really urgent, call '000'.
Otherwise, we subscribe to Home Doctor Service for after-hours home visits. They have fantastic doctors available to see you and can be contacted by phoning: 137 425.
Fees
New Fee Schedule (from 20th January 2020)
|   | Medicare Rebate | Adult | Child 10 and under | Child 11-16 | HCC / Non aged pension (Adult) | Aged Pension |
| --- | --- | --- | --- | --- | --- | --- |
| Standard | $38.20 | $78 | Bulk billed | $63 | $67 | Bulk billed |
| Long | $73.95 | $130 | Bulk billed | $101 | $110 | Bulk billed |
| Extended | $108.85 | $172 | Bulk billed | $145 | $155 | Bulk billed |
| Saturday | $38.20 | $83 | $67 | $67 | $83 | $83 |
| Saturday (Long) | $73.95 | $141 | $116 | $116 | $141 | $141 |
| Before 8am (Standard) | $29.35 | $90 | Bulk billed | $75 | $79 | Bulk billed |
| Before 8am (Long) | $49.80 | $145 | Bulk billed | $115 | $125 | Bulk billed |